Opportunities
The Parikh Environmental Soil Chemistry Lab does not currently have any opening for graduate students or postdocs, however there will opportunities in the future. If you are interested in joining the lab please check back here later to see if any positions are available.
Graduate Study at UCD
At UC Davis graduate degrees are granted by interdisciplinary graduate groups comprised of faculty members from various departments across campus. Graduate students (M.S. and Ph.D.) in the Environmental Soil Chemistry Lab typically receive their degree at UCD through the Soils and Biogeochemistry or Agriculture and Environmental Chemistry graduate groups. If you would like to find out more about these groups please visit their websites or contact the appropriate program coordinator. Applications for both graduate groups must be submitted online.
Soils and Biogeochemistry Graduate Group: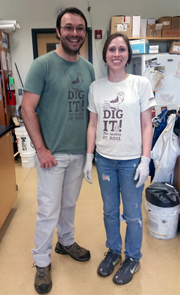 Department of Land, 
Air and Water Resources
1152 Plant & Environmental Sciences Building
University of California
Davis, CA 95616-8627
Phone: 530-752-1669
Fax: 530-752-1552
Email: sbgadvising@ucdavis.edu


Agricultural and Environmental Chemistry Graduate Group:
Agricultural and Environmental Chemistry Graduate Group
Department of Environmental Toxicology
4117 Meyer Hall
University of California
Davis, CA 95616
Phone: (530) 752-1415
Email: etoxgradavising@ucdavis.edu
AgChem Brochure